Fuji pressure transmitter Flow

Accurate flow measurement using a number of different technologies. Orifice plates, Venturi's Pitot tubes, electromagnetic, ultrasonic (Clamp on). Our flow specialists can advise on the most appropriate flowmeter for your application.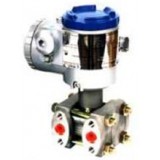 Features High reliability micro-capacitance silicon cells Static Pressure to 140 Bar on dp ranges Accuracy, +/-0.1% of calibrated span Exceptional resistance to harsh environments Hart® 5.2 multi-drop communication Versatile indicator with 5-digit display Field repair possible with common spare parts Built-in loop calibration facility Large installed base The Fuji Electric FCX-CII is a high performance low cost pressure transmitter. This is achieved by offering only stainless steel wetted parts and mid-range measuring cells. For high/low pressure ranges, or exotic materials, select the FCX-AII. The Fuji Electric FCX series of pressure transmitters use a silicon micro-capacitance cell proven on thousands of difficult applications. They are installed in harsh environments on oil pipelines, power stations, gas compressor stations, water treatment plants and steel plants. They have European, American, Russian and Chinese approvals. Field repair is possible using only one amplifier for all pressure transmitter types. To provide high flexibility, remote seals can be fitted to any of the FCX series of transmitters.
Showing 1 to 1 of 1 (1 Pages)